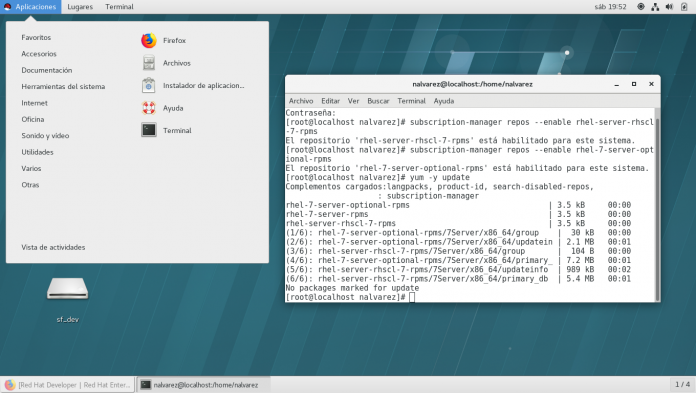 As in the old way, today is possible to install Red Hat Linux for free and legal development.
A few years ago while I was a student at the University, I remember that when we talked about Linux, our first image was of the RedHat operating system, and probably more than some installation attempt must have been made. However, one of the first installations that I was able to specify was Fedora Linux, the free and modern version of Red Hat, since the latter required a payment license to operate.
Since
then, I found it difficult to conceive the publication of websites on
servers that were not Linux distributions, although Windows platforms
existed and there is the possibility of using software such as Xampp, to
install Apache, MySql and / or php.
A
lot of water has passed under the bridge, and many distributions of the
penguin operating system, but for some time now, I discovered by chance
that I could install RedHat with a completely legal and free developer
license, registering on the site https: / /developers.redhat.com
It all started in a crazy night where I had spent a lot of time reviewing resources available on sites like https://developers.ibm.com or https://developers.google.com and out of nowhere it occurred to me to try if there was a similar URL on RedHat.
Once registered, great was the surprise to see that there was a version of the system to download and install, even with detailed instructions to do so in VirtualBox or VmWare, two popular virtual players of operating systems.
To date, the installation dvd weighs around 4GB, and with a minimum of 2GB in RAM and a recommended amount of 4GB RAM in the virtual system, it is possible to install a functional image of the system in a matter of minutes to develop applications. (Instructions at https://developers.redhat.com/products/rhel/hello-world/#fndtn-windows)
As
for space, we recommend about 24GB free in the virtual machine, which
can be configured to grow dynamically as they are used, of which about
10GB will be occupied by the installation and other configurations. In my case, creating 54GB, I left 44Gb free after installing and updating the system with the command # yum update -y